I`m a little bit excited about two things. First of all, I found 3 cartridges I want for a good price on Ebay. Flower Shoppe, Limited Edition Thanksgiving and Joys of the Season. I`m not a fan of Halloween but I have plenty of ideas for Thanksgiving and Christmas. I have been wishing for Flower Shoppe since it came out and the seller had a new packaged cart for $24. Wahoo!!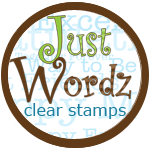 I'm also excited to share the news that Just Wordz is releasing two more stamp sets - Christmas Season and Party Time. More mix ' n' match sentiments. These are just in time for all of our holiday cards. I'm super excited to be getting both sets.
Go and check out the announcement.
Yay Kimberly!!
Happy Crafting!